What is the best acoustic guitar brand? This is a very subjective question, and every musician will have a firm opinion on this. But sometimes this question becomes crucial, for example, when beginners start looking for their first instrument and want something worthwhile.
After extensive research of different guitar brands, we have listed some of the best acoustic guitar brands that have been highly rated by the users up to the price of $2000. The list is very objective, and the guitar players worldwide love all of the instruments included in it. Starting from number 11 and moving towards number 1, this list of best acoustic guitar companies is composed in descending order.
Without further ado, let's dive right into it.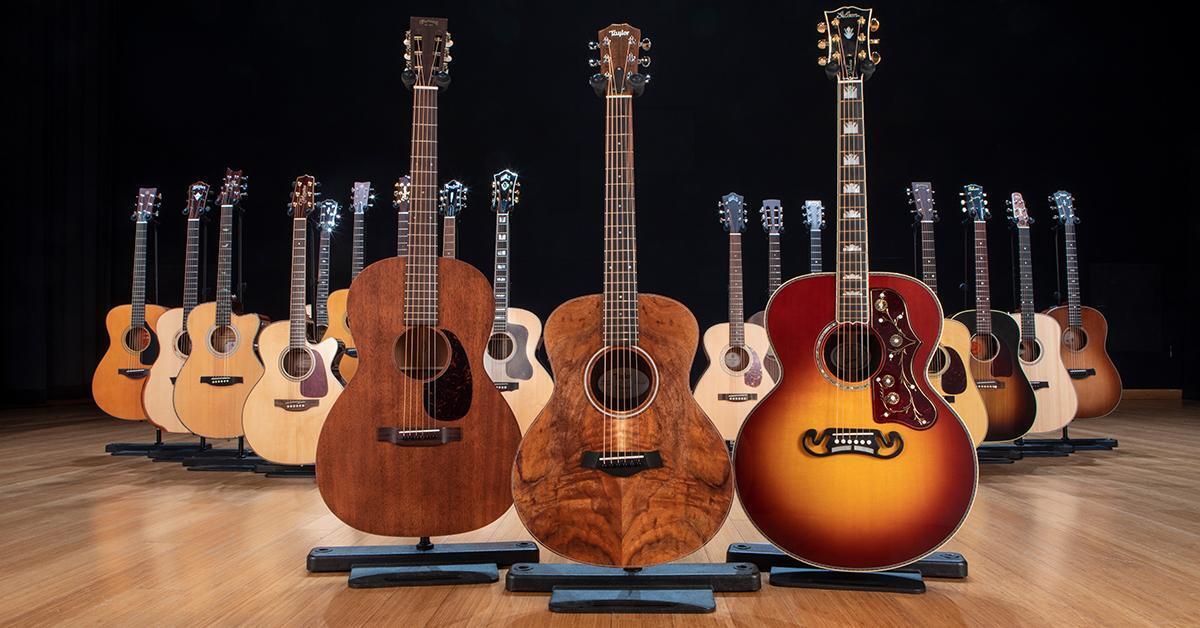 11) Blueridge
Blueridge is a very prestigious guitar brand and has been well-known for producing guitars with a pre-war theme. This theme means the guitars used in America in the 1930s or before World War II. Many artists rate the Blueridge guitars near high-end instruments from expensive brands like Martin and Gibson Acoustics despite the considerable price difference. This shows how much value Blueridge provides for your money.
The best model from Blueridge that has earned its place in this list is Blueridge BG-40. One of their most popular models this guitar has a price tag of $1,000 and has been designed for pre-war music.
10) Ovation
Ovation has broken the perception of people who only believed in traditional ways of making a guitar by innovating a new material called Lyrachord. They have replaced the wood body of the guitars with this new hybrid material.  
The company continued its innovation by changing the shape of its guitars to a bowl. But surprisingly, these bowl-shaped acoustic guitars have the same sound like the traditional wooden ones.
The company is still very well-known, so we can conclude that artists have accepted the guitars with open arms even if they have broken some taboos. One very worthy addition to this list is Ovation's Celebrity Elite CE44.
9) Jasmine Guitars
Jasmine, owned by KMC Music, produces a wide array of acoustic guitars such as nylon-stringed, steel-string dreadnoughts, and orchestra models. But their guitars that have received the highest ratings are the student models.
These economical guitars are present in major musical stores and also on famous websites like amazon. The model which has made its way to our list is S-34C which will cost you less than 100 bucks.
 8) Ibanez
Ibanez has a very interesting history. Everything started with Salvador Ibanez, a Spanish master-craftsman or a luthier from the 1800s whose guitars hold the value of a treasure. One must be lucky enough and wealthy enough to own one of his originals.
Counterintuitively today's Ibanez is not the same. But they have a connection to some extent in a way that in 1929 Hoshino Gakki, a Japanese company started importing instruments from Salvador Ibanez's company. The guitars became so popular that the Japanese in 1935 decided to make their own similar guitars under the name Ibanez. In 1945 their factory was destroyed during the military operations. The company recuperated by 1957 and even started exporting its guitars to America in 1971. Everyone knows the rest of the story.
Today Ibanez has a variety of acoustic guitars. One of their prime guitars is Ibanez AW54.
7) Fender
Rather than following the conventional approach of first making the acoustic guitars and then moving on to the electric ones, Fender started right off the bat with the electric guitars known as telecasters and then began manufacturing the acoustic instruments.
Though creating acoustic guitars is not their specialty, their entry-level acoustic instruments have earned them much respect. Fender CC-60 and Fender FA-115 are two such examples.
6) Taylor
Taylor has been producing high-end acoustic guitars since 1974. It also innovated the precision acoustic guitars using computer mills. Taylor is famous for its tone and quality worldwide.
One of their most popular dreadnoughts is Taylor Big Baby BBT which can be used as entry-level or campfire guitar. It also offers some budget-friendly models, such as Taylor Academy 10.
5) Epiphone Acoustic Guitars
Epiphone had a rich history of making string instruments in Turkey since 1873. The company relocated to America in 1903, and Gibbson has owned it since 1957.
The purpose of Epiphone is to create cost-friendly versions of Gibbson's popular guitar models. One such prominent model is Epiphone Dove-Pro. It also produces its own designs, which are pretty popular such as Epiphone DR-100, a popular entry-level guitar.
4) Yamaha
Yamaha has always been well-known for its beginner-friendly guitars and did not earn much respect in making other kinds of guitars. But in the past 20 years, the Yamaha has become famous for making a wide range of guitars like nylon string guitars and steel acoustic guitars. They have gained respect globally by producing high-rated models like Yamaha FG830.
3) Martin
C.F Martin & Company was established in 1833 by Christian Fredrick Martin in New York. He was the first person to introduce an acoustic guitar in America. The company dabbled in the electric guitar and bass niche for some time but is now back to acoustics.  
Martin manufactures acoustic guitars of the finest quality, like D-15M, which was rated the best acoustic guitar of 2020 under the price tag of $1,500 by Gearrank.
2) Gibson
Gibson is an iconic acoustic guitar manufacturing company that has been in business since 1902. The company was a long way behind Martin in producing flat-top acoustics in their early years. Only in 1923, their Nick Lucas model caught people's attention, and in the 1930s, Gibson has carved out personal space.
We have listed Gibson J-35 here, which is a very high-rated acoustic guitar for under $2,000.
1) Seagull
Seagull comes from a land of guitars La Patrie, Canada, and is owned by Godin Guitars. All Seagull guitars are handmade with 100% wood.
We recommend Seagull S6 original for students and Seagull Maritime SWS SG, rated 2nd best acoustic guitar by Gearrank for under $1,000 in 2016. And below $500, you should go for Entourage Rustic CW QIT.
Conclusion
All the guitars we have mentioned are of the finest quality in this wholesome acoustic guitar list, so you should go for the one that clicks with you. We have only added major online retailers from America, so do not feel bad if your favorite brand from another country was not included. And the best guitar is always the one that brings you joy.
FAQ
Which Brand's Guitar does Ed Sheeran use?
He uses Martin Ed Sheeran Divide, his signature guitar from Martin.
What is the price of the most expensive guitar ever sold?
Fender Stratocaster Reach Out To Asia was sold in 2015 for $2.7 million.
What guitar brand is the best for beginners?
If you were wondering about the best acoustic guitar for beginners, then keep in mind that, it's not about the brand, but more about the characteristics. For a novice, a steel-stringed guitar is usually the best choice. A classical or flamenco guitar is not suitable for a beginner since its necks make it difficult to create chord forms. A standard steel-stringed acoustic instrument is designed to play blues, rock, and pop music.